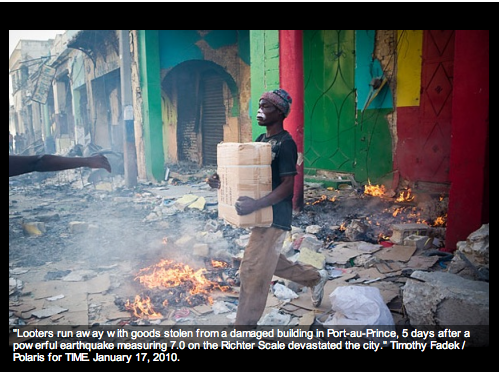 Mainstream media may have become too easy a target for us to pounce upon. Desperate for readers and advertisers, lacking in confidence as to its own survival, unsure as to how Web 2.0 affects the balance of power, mainstream media, particularly of the serious kind, is in trouble. Partially as a result, the advent of the Web has been used to make coverage faster but not more enlightening, particularly when it comes to photography.
The photography of Haiti post-earthquake, for example, has helped bring enormous amounts of aid but much less comprehension of the people, their politics and culture, or even of the efficacy of the aid. But there are many, many dedicated journalists working hard to do more than that.
Why? In part there is failure to deepen and broaden understanding because we have very little accepted sense of what a good photojournalistic image should be. Is it the most shocking pictures that should be selected? The most spectacular? The most exotic? Certainly, if one looks at the awards given annually, it is often the most sensational that win.
What about the most complex? The most nuanced? The most empathetic? I was moved, participating in a BAGnewsNotes discussion the other day on photographic coverage of Haiti to hear from Timothy Fadek, the photographer who made the accompanying image above, that the "looter," as he was captioned, was wearing toothpaste to mask the smell of decay. A small detail perhaps, but one that if it had been in the caption might have helped the reader rethink what the man was doing–in such a devastating situation might he simply be trying to survive? (Fadek said that he did not realize what was on his face until the following day when many people were seen with faces smeared with toothpaste.)
The iPad is not the answer. Certainly a better drag-and-drop way of laying out pictures for digital display would help enormously (an opinion voiced to me by Matthias Bruggmann) in breaking the formulaic use of slideshows and short videos, and the new HTML5 may provide some relief. Until then we seem to be mostly stuck with the most elementary and often haphazard presentations of imagery.
But I think that the necessary response from the photojournalistic community is a deeper and more powerful one. Until we agree that it is intolerable to continue witnessing horrific events without exploring their causes and putting them in context, to have one's imagery selected by others to emphasize the sensational at the expense of the more nuanced and authentic, as well as having photographs miscaptioned to simplify and distort, photojournalism will become an increasingly self-referential and dead-end pursuit. It is up to us to provide alternatives as to how photojournalism can be done as a way of better informing the public, and to help mainstream media extricate itself from old and unproductive strategies by providing better models.
This should be the point of most of our universities teaching journalism and related fields, as well as a primary focus of both photographic luminaries and debutantes. It is not enough for strong photographs to end up in a photographer's retrospective on the walls of some museum and in the pages of a glossy book–they need to be much more revelatory and useful now.