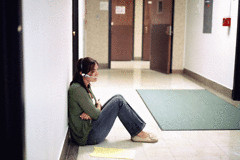 Another piece on war, On the Line shows the devastating toll on returning American soldiers. Just published on the VII magazine site, photographer Ashley Gilbertson's images of exhausted, emotionally taxed phone operators are overlaid with a soundtrack of their voices as they try over and over again to coax veteran soldiers to resist suicide or any other kind of violence. The Centers for Disease Control recently announced that 18 US veterans commit suicide every day.
While this four-minute piece is overwhelming and terrifying, making evident the hell that so many former soldiers are going through, it would benefit from a second part in which these people "on the line" trying to deal with soldiers in extreme moments of agony get to tell us about the traumas that they themselves go through. What is the effect of these many painful, fraught conversations? How have their lives been changed because of them? How can they keep talking? Why do they do it?
As Gilbertson's short essay makes clear, it's not just the soldiers who suffer from war's horrors–and we need to know what happens to the civilians on the other end of the line as well.