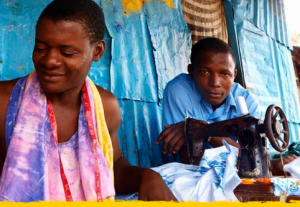 In researching a book that I am writing on photography and social change, I was pointed towards Save the Children's very sophisticated website, This is Kroo Bay. It's an interactive site that attempts to immerse the viewer in the lives of residents living in a slum area of Freetown, Sierra Leone.
Home to 6,000 residents, Kroo Bay is built on a pile of rubbish, rife with malaria and cholera, without electricity or running water, and a host of other problems. As the website puts it, "Kroo Bay is one of the worst places in Sierra Leone — a country that's officially recognized as the toughest place in the world to be born." One in four children die in Sierra Leone before the age of five.
The site allows a viewer to pan a camera 360 degrees around different locales, stop and hear stories from various residents as a way of getting to know them, watch Webisodes, and emerge with a rare feeling that the experience, despite enormous distance, was a valuable, almost intimate one. Viewers can send messages to each other or to the residents and receive a response. It makes "reality tv" seem flat and even more contrived. And people can contribute money while keeping an eye on developments in the neighborhood–they were just able to open a much-needed clinic and create a walkway so that people do not have to enter the toxic Crocodile River, a breeding ground for disease.
Rather than just watch the misery it's amazing to feel, for once, that it's possible to think of others in such different circumstances as individuals, to know something about them, and perhaps to be a small bit of help.