-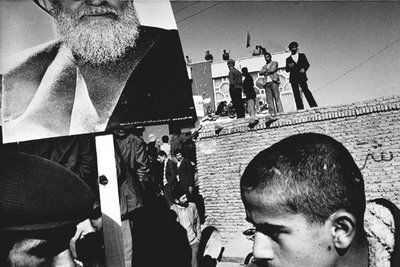 This is what I had written a long time ago about Gilles Peress's landmark photographic reportage, TELEX IRAN, which he produced thirty years ago as Iran was going through a revolution bringing Ayatollah Khomeini to power:
"Peress's photographs are the puzzled, chaotic articulations of a self-avowed outsider looking for explanations in areas where other journalists, confined for months to their on-the-spot positions in front of the American Embassy, were unable to go. In this context the photographs are asserted as questions rather than answers, a strategy in keeping with a growing disbelief that it is possible to present conclusions without involving the reader in the photographer's attempt to understand. The revelation of the image is located in the telling not just in the evidence of what has been told."
It was a time when Iranian photojournalists such as Abbas, Golestan and Reza were producing remarkable imagery of an unprecedented upheaval that supplanted the pro-American Shah and took Americans hostage in the US Embassy. At that time neither American journalists nor the State Department seemed to have any inkling that this was going to happen. Peress's work, growing out of his frustration with the foreign media's sensationalized misreporting of events, was both an inquiry of a curious mind and a partial reinvention of photographic language.
I was picture editor of The New York Times Magazine when we published Peress's work, entitled "A VISION OF IRAN," indicating for once that even The New York Times was unable to be more definitive in asserting what was actually going on there. One person's vision would have to do.
When the photo essay won the Oversea's Press Club Award for best foreign reporting, my editor was not happy. As I was leaving my office to pick up the award at a fancy banquet (Peress was in Belfast) this editor told me that neither he nor the Times's executive editor either liked or understood the work. That was one way to know that we were onto something important.
And as Giovanni queried today whether anyone was photographing the equivalent of another Telex Iran, it brought the work by Gilles to mind. Hopefully someone - maybe an Iranian with a camera or a cellphone - is creating the kind of complex document that will begin to explain some of the craziness that is going on.