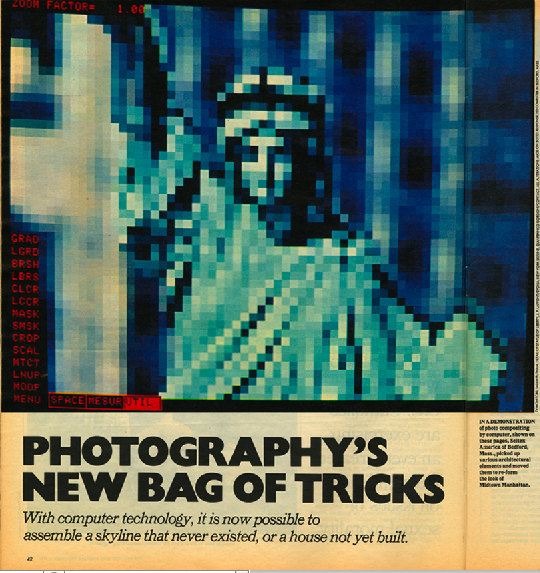 Twenty-five years ago this month The New York Times Magazine published an extensive article that I had written on the coming digital revolution in photography, to which they gave the unfortunate title, "Photography's New Bag of Tricks." At that time there was no Photoshop - it would come at the end of the decade - but there were Scitex and other digital machines that major magazines were using for layout, production and, inevitably, image alteration.. National Geographic already had manipulated their cover on the pyramids of Giza (which to me is the beginning of the digital revolution as it affected photography's credibility), and other magazine covers were similarly being manipulated.
My thought was that by alerting the nation and others around the world to the coming authenticity crisis in photojournalism we might be able to do something about it. I did not want to wait for the public to become so skeptical of the medium's recording fidelity that photojournalists would lose their special status as credible witnesses. I always believed that photography was subjective, interpretive and certainly did not represent the "truth," but I did think that its status as a societal and historical referent needed to be both safeguarded and illuminated. Those who would lose most if photojournalism was undermined were those with the least power — the people who needed witnesses to tell others what was happening to them. And the rest of us would then become even more unsure as to what is happening the world.
Unfortunately in the last twenty-five years we have done very little to establish and publicize guidelines, and now photojournalism is devolving into yet another medium perceived as intending to shock, titillate, sell, distort. My sense is that if we are truly serious about preserving at least some of its credibility — while making it clear that it is not representative of the "truth" — we need to take strong steps. I am still of the opinion, as I expressed in the After Photography book last year, that a special frame placed around the photograph (perhaps a thicker one) indicating that a photograph is "non-fiction" — meaning that it is subjective, interpretive, but the image itself has NOT been manipulated beyond accepted darkroom techniques such as modest burning and dodging — would be helpful.
As well, those images that are staged, such as photo opportunities orchestrated by politicians or other celebrities, would have to be labeled as such in the caption. Whenever possible the staging itself should be revealed by using a second image made from another vantage point to show that what viewers are looking at is not spontaneous but a media event (this second image could be placed under the first, and revealed by rolling over the initial photograph with the computer's cursor). Or a single photograph can be made from a perspective that reveals the staging (the mob of press, media handlers, special lighting, etc.), not one that conceals it.
I do believe that the various bodies working with photojournalism - National Press Photographers Association, World Press Photo, photo agencies, etc. — as well as newspapers and magazines, should quickly consider such a step. Adopting and enforcing such standards would also help to distinguish a serious photojournalistic image from the enormous mass of imagery that we see now on a daily basis.
It is difficult to conceive of democracies surviving without credible witnesses.