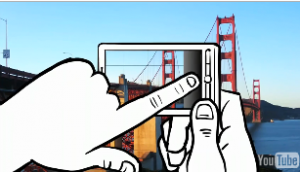 It is fitting to end a tumultuous year with the announcement of what seems like the most disquieting invention of them all–at least in the image world. Google's Goggles is a system whereby one points the cellphone camera at buildings, books, bridges, paintings and the like, and within seconds information appears indicating what you are looking at. While early reports indicate that there are numerous errors being made (the system is still being tested), and it does not yet work with animals, plants or automobiles, still one can only be staggered by the enormity of visually identifying nearly everything on the planet. Are we lurching to the end of wonder?
"What is that?" becomes a question that no longer needs to be spoken. Those of us who tend to be allergic to captions will find much of the world–particularly those parts made by humans–all too easily labeled and categorized, without the ambiguities that kept us curious and humble. "Two roads diverged in a yellow wood" but my cellphone told me all about each one before I took the first step–where's the risk? Goggles and Photosynth in combination will make sure that little is left to the imagination.
Of course, once Google decides to raid Facebook, MySpace, LinkedIn and all the rest (let's not even talk about databases of college students, drivers, criminals, soldiers, etc.), then our cute little cellphones will also be able to identify many of our fellow humans. How many unpaid parking tickets? How much alimony owed? Inner circle of friends? Favorite ice cream? Arrest warrants? Favorite fetish? Walking in the street without scarves, sunglasses and hats would constitute a baring of the individual way beyond what occurs in any nudist colony.
Google explains it all in a cartoon (why show the real thing and upset people?). I wonder how many people will pay attention to this as anything but another "helpful" gimmick? I wonder how many photographers will find this evolution of their profession disquieting? Isn't it time we started discussing where all this imaging technology is taking us?